IndependanceDay - 15/08/16
Kalamezhuthu - 10/10/15
UNESCO Award Felicitation 12/09/15
All India Heritage Quiz 07/07/2015
WORKSHOP on Mizhavu 20/12/2014
LISTING WORKSHOP: Built Heritage 15/11/14
SEMINAR: Built Heritage of Thrissur 19/08/14
World Environment Day 2014 06/14
First Anniversary 04/14
My Living ICON 02/14
Launch INTACH Thrissur 1
Launch INTACH Thrissur 2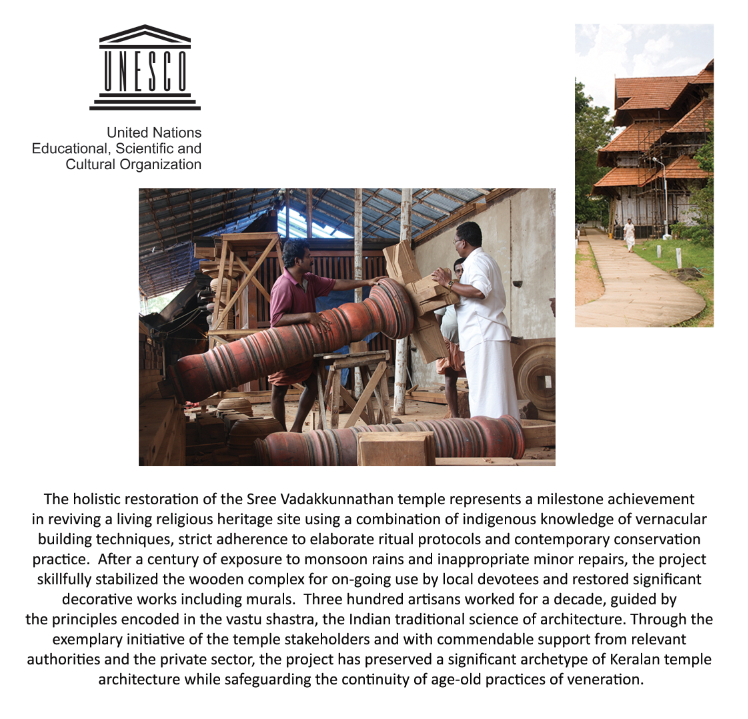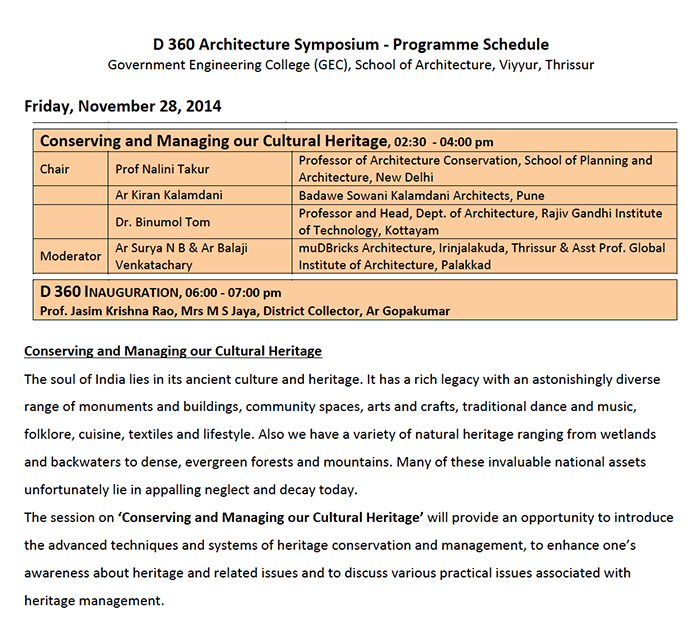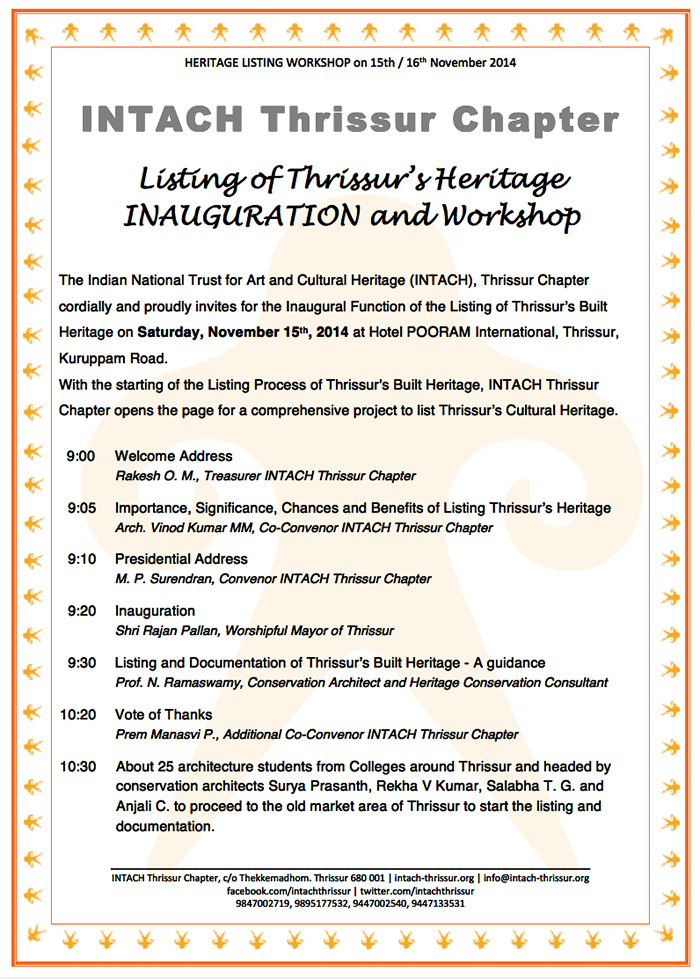 SEMINAR: The Built Heritage Of Thrissur And Challenges In Protecting It
As a first step towards making Thrissur a Heritage Friendly city, INTACH Thrissur Chapter is organizing a seminar on Tuesday, 19/08/2014, 5.30 pm at Sahithya Academy, Vyloppilly Hall, Thrissur.
It is part of INTACH Thrissur Chapter's initiative to play a major role towards conserving the Built Heritage of Thrissur town and the District.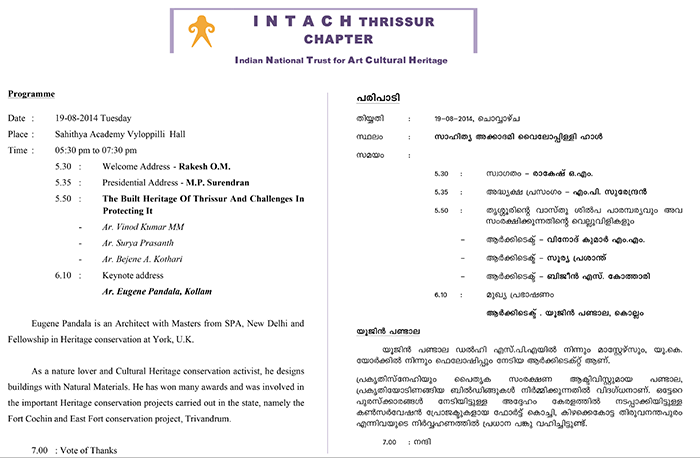 World Environment Day Celebration
Thursday, June 5th, 2014, 10:30am
at

Sahitya Akademi, Changampuzha Hall

INTACH Thrissur Chapter conducts a programme to celebrate World Environment Day 2014.


The World Environment Day was invented by the United Nations in 1973 to stimulate worldwide awareness on environmental issues and to encourage positive environmental acton to protect nature and the planet Earth.




Stalwarts of Malayalam Literature were commemorated in planting saplings of their favourite trees

by renowned personalities of Thrissur.
The

Regional Winner

of the all India Painting Competition 2013/2014

'My Living ICON'

from Paramekkavu Vidya Mandir

was honoured

and a memento presented to him.
It was followed by a

Seminar

on

The Western Ghats and its Biodiversity

(Abdul Basheer) and on the

Correlation of Kerala's Agriculture and Kerala's Cultural Traditions

(Dr. Molly Joseph).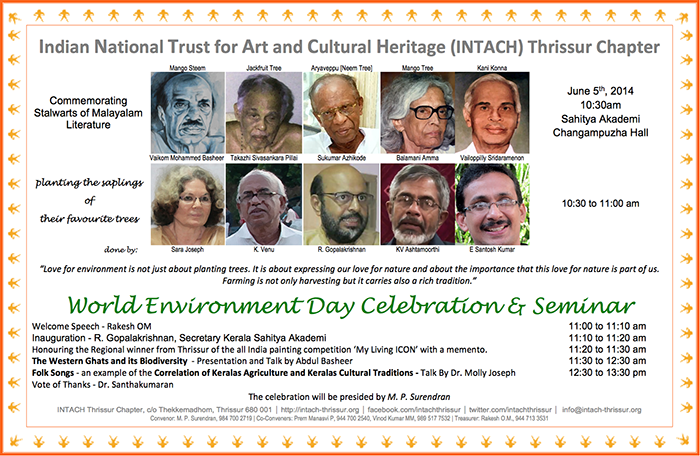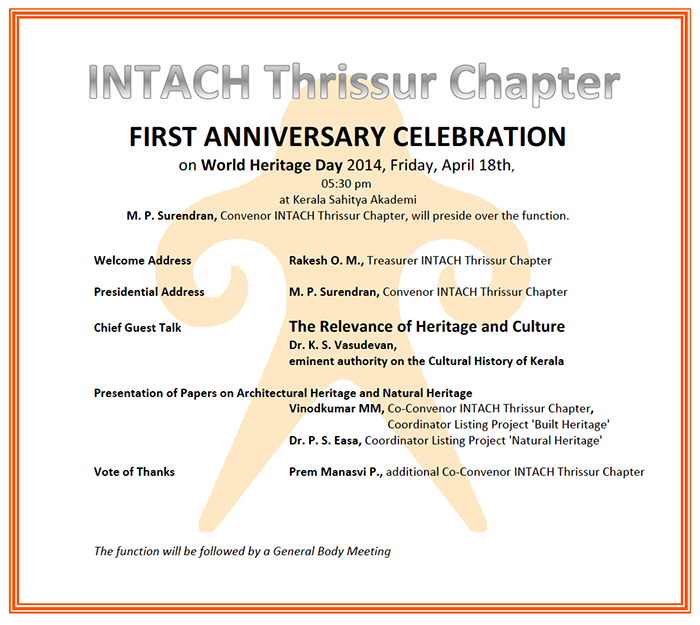 'Business eye behind Tradition' –

Dr.S.K.Vasanthan




In the name of tradition and culture, what is happening today is only applying business tactics – pointed out by the writer, Dr.S.K.Vasanthan. He was inagurating the first anniversary programmes of INTACH, Thrissur chapter, on World Heritage day.
" Tradition or heredity has to be preserved. Preserving the Heritage monuments is a huge task. But now, in the name of heritage preservation, marketting is happening. 'Dhanaakarshanayanthram'(money attracting machine), 'Akshara thrideeya' etc. are coming to the market. What we are teaching is a distorted history. For eg, it is a wrong concept that, Sanskrit was studied by Brahmins alone. In old days, carpenters, masons etc. used to learn sanskrit, to apply the knowledge in their routine works. For this, stalwarts like Punnasseri Nambi used to teach sanskrit to daliths along with brahmin children. But these things are forgotten. In the conventional Kerala History and Cultural courses, topics like Anthropology, Archeology etc, are left out. Without these basic sciences, how the cultural studies is possible ?" – he asked.
"Media are spreading the tradition of religious conflicts. But we had a very good religious harmony here. It is not seen today."
The function was presided by the INTACH Convenor, M.P.Surendran. In the subsequent seminar, Dr. P.S.Easa presented the topic on 'Biodiversity in Thrissur district'. Architect and co-convenor M.M.Vinodkumar has presented 'Traditional Archetecture'. Paul Manasvi had expressed vote of thanks.

Regional on-the-spot competition 'My Living ICON'
conducted at Vivekodayam Boys HSS, Thrissur, on February 23, 2014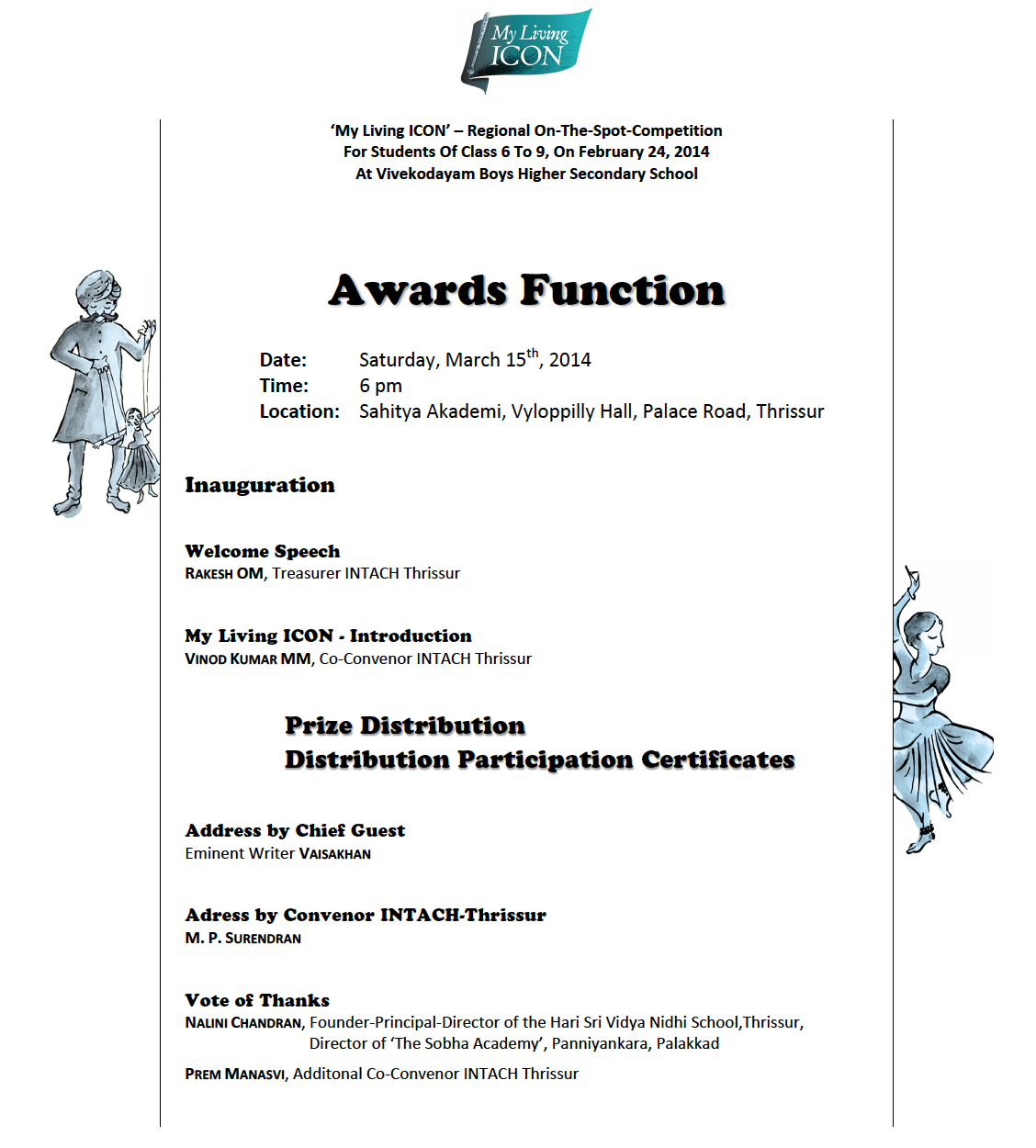 Hon'ble Mayor I. P. Paul agrees to make Thrissur a Heritage Friendly City.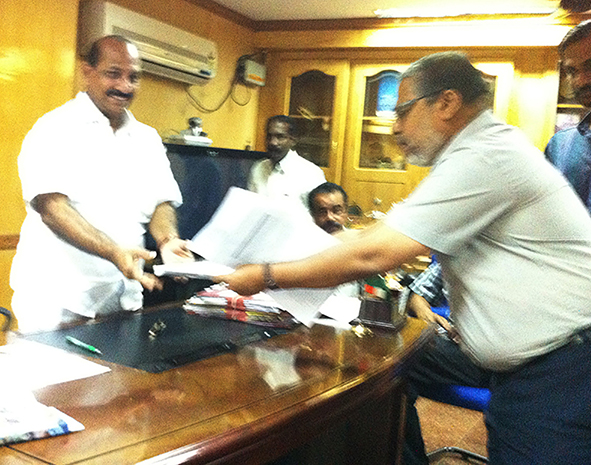 M. P. Surendran, Convenor of INTACH-Thrissur hands over to the Mayor of Thrissur, I. P. Paul, recommendations of INTACH Thrissur for making the cultural capital a heritage friendly city.- Read more ...
Launching INTACH Thrissur Chapter by Lightening the Lamp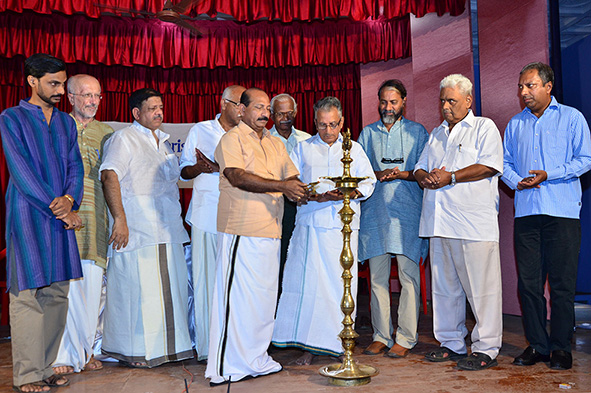 From Right to Left: Shaji K., Co-Convenor Trivandrum Chapter - Dr.M.G.S. Narayanan, former Chairman of Indian Council for Historic Research - Dr. V. Jayarajan, Convenor Kasargode Chapter - MLA Therambil Ramakrishnan - Mohan K., Convenor Calicut Chapter - I. P. Paul, Mayor of Thrissur - K.P. Sohan, INTACH Kerala State Convenor, Ex-Mayor Cochin - Abdul Azeez - elected member of the Executive Committee, Prem Manasvi - elected Co-Convenor, Vinod Kumar MM - elected Co-Convenor (INTACH Thrissur)
Significant Traditional Craftsmen of Thrissur District were honoured during the function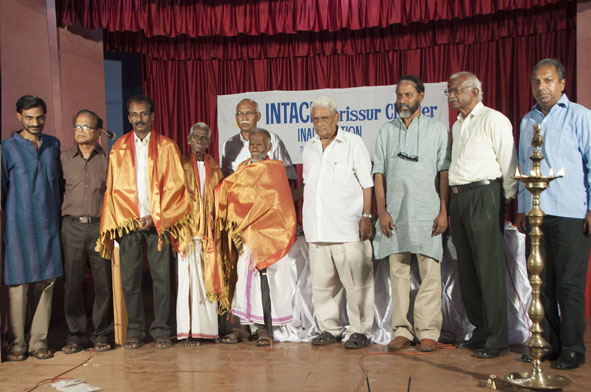 Joy, a master oxide worker - Thankamani, a traditional carpenter - Sankunny, a traditional laterite craftsman (left to right).
Also seen: Vinod Kumar MM - elected Co-Convenor, INTACH Thrissur - Prof. S. Bhargavan Pillai, retired Professor of History, K K Thampuran Memorial Government College, Kodungaloor - K.P. Sohan, INTACH Kerala State Convenor, Ex-Mayor Cochin - Dr.M.G.S. Narayanan, Director Centre for Heritage Studies, Thrippunithura, former Chairman of Indian Council for Historic Research - Dr. V. Jayarajan, Convenor Kasargode Chapter - Mohan K., Convenor Calicut Chapter - Shaji K., Co-Convenor Trivandrum Chapter
Click here for the full programme
Click here for the synopsis of the Kutiyattam play 'Kailasoddharanam'
Click here for photos of the Inauguration of INTACH Thrissur Chapter
Click here for the article: "Traditional Craftsmen Honored in South India" by Venus Upadhayaya
Dear Friends,
we finally made it possible!
We successfully launched and inaugurated INTACH Thrissur Chapter. Thanks to each and everybody who has contributed to make it happen!


Shri Therambil Ramakrishnan

, MLA, in his presidential address wholeheartedly welcomed INTACH to Thrissur and highlighted areas where INTACH's intervention is needed.
He thanked for INTACH's critical role in the past in preserving the Town Hall compound from atrocious fragmentation, deplored the fate of the Rama Nilayam compound that had been a beautiful green heaven in Chembukkavu and looks now devastated with so many characterless buildings filling the compound. He promised the maintenance of the present zoo compound of about 13 acres as it is - once the zoo will be shifted to the proposed Zoological Park at Puthur-
The Honourable Mayor of Thrissur,

Shri I, P. Paul

declared the Chapter Thrissur of INTACH by lightening the traditional lamp.
He, too, assured the citizens of Thrissur that the remaining heritage of Thrissur will be a prime consideration regarding any future development programmes - including the Thrissur Master Plan activities. The corporation authorities shall be bound to act in such matters according to the guidance by bodies like INTACH and the Archaeological Department only.


K. Radakrishnan

, the present Chairman of the Thrissur Urban Development Authority (TUDA) and former Mayor of Thrissur promised that protecting, conserving and restoring the invaluable built, natural and living cultural heritage will be made a priority during his tenure. There will be a special status and support for INTACH from his office. Space and facilities would be also given to eminent personalities like Dr. MGS Narayanan to prioritise the development of Thrissur with respect to its history.


Dr. M. G. S. Narayanan

, Director Centre for Heritage Studies, Thripunitura and former Chairman of Indian Council for Historic Research, Delhi and Prof. S. Bhargavan Pillai, retired Professor of History, K.K. Thampuran Memorial Governmental College, Kodungaloor, addressed the audience with critical insights about the functioning of the Archaeological Department in Kerala, the misinterpretation and distortion of historical events to suit the wrong people or - as in the example of the Muziris Project - to promote tourism based on it.
The State convenor.

K. J. Sohan

shared his experiences while working for INTACH, welcomed the launch of the Thrissur chapter of INTACH and expressed the need that it develops into a strong, competent organisation.


M. P. Surendran

explained the importance of heritage protection in Thrissur, highlighted the problems that Thrissur is facing, gave a critical account of development activities in the city and warned that the development of the Thrissur of tomorrow could be hampered by wrong decisions of today.


K.V. Abdul Azeez

welcomed the gathering, reminded about the beginnings of efforts to establish a chapter of INTACH in Thrissur after plans to partially pull down the Town Hall to make space for an extended public library surfaced - a building, that was held with due regard as built heritage of a bygone area from the time of C. Achutha Menon, the erstwhile Chied Minister.


Ar. Jeff Anthony

offered his felicitations as chairman and on behalf of the Indian Institute of Architects, Kerala Chapter.
All the convenors of Kerala's Chapters recounted their experiences, their activities, the court cases in their fight for the preservation of heritage, one of them wondering, why a Thrissur chapter of INTACH comes so late.
Three traditional craftsman were honoured during the function -

Thankamani,

a traditional carpenter,

Sankunny

, a traditional laterite craftsman and

Joy

, a master oxide worker (see also: http://www.theepochtimes.com/n3/20620-traditional-craftsmen-honored-in-south-india/).
The inaugural programme ended with a mesmerizing Kutiyattam performance - the Sanskrit theatre of Kerala.


Ammanur Rajaneesh Chakyar

from the Ammanur Chakyar Gurukulam at Irinjalakuda performed the 'Lifting of the mountain Himalaya' (Kailasoddharanam) - a particulat scene from the III. Act 'Thoranayuddham' of the 'Abshisheka Natakam' (Coronation Play), written by Bhasa, the 2nd century BC Sanskrit playwright. He was supported by

Kalamandalam Rajeev

and

Kalamandalam Ravikumar

on the Mizhavu,

Kalanilayam Unnikrishnan

on the Idaykka,

Archana

and

Bhadra Rajaneesh

(Thalam). For visual impressions visit our web site: http://intach-thrissur.org/inauguration.php
The First General Body Meeting, to be coordinated with our state convenor, J. J. Sohan, will be announced as soon as possible.