100dpi Photos
300dpi Photos
100 dpi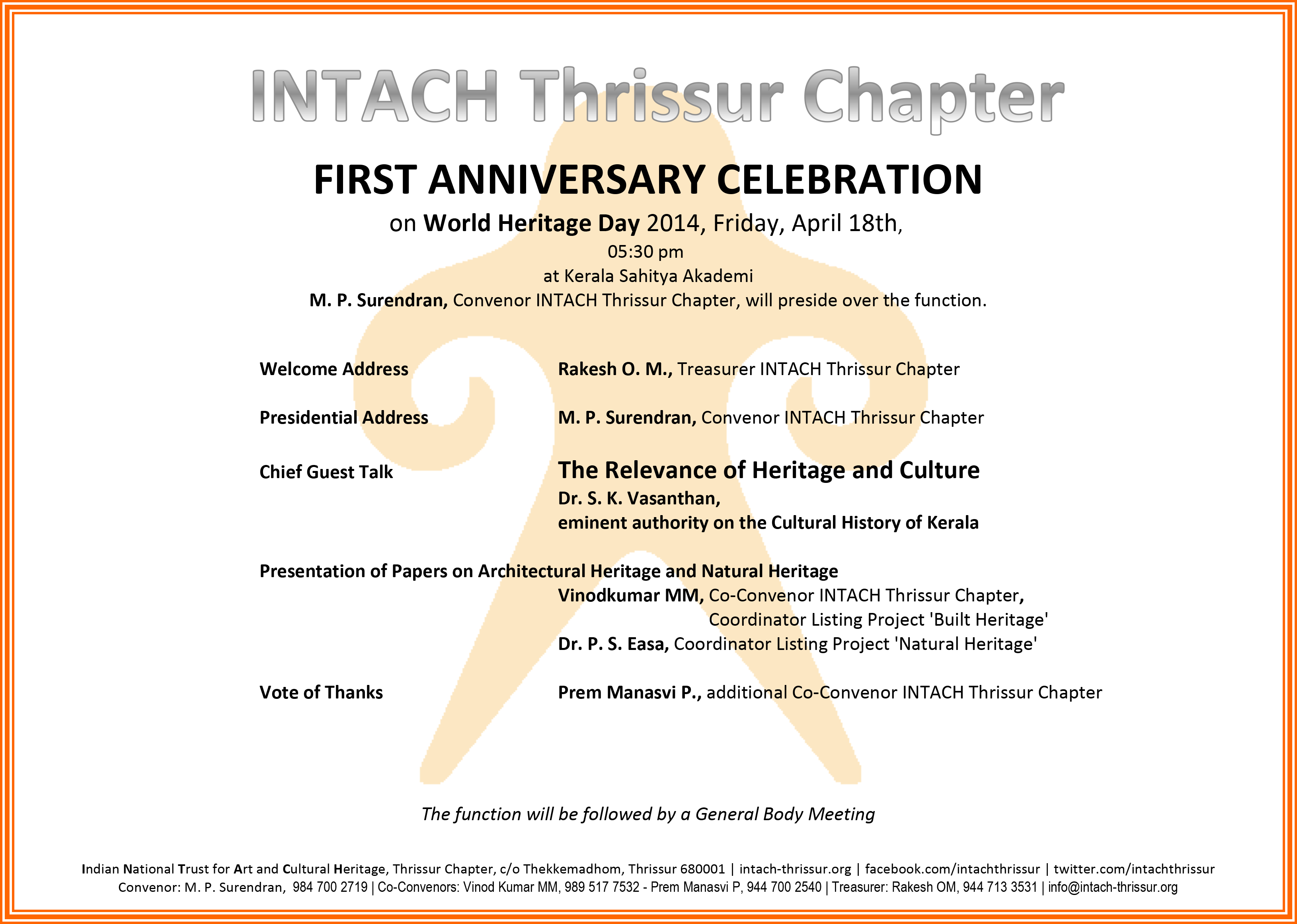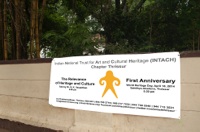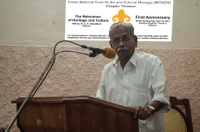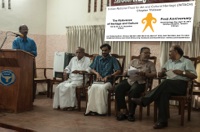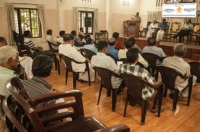 Banner | Dr. S. K. Vasanthan delivers his talk on "The Relevance of Heritage and Culture" | Dr. Raghavan welcoming the gathering. Seen from left to right:Dr. S. K. Vasanthan, Vinod Kumar MM, M. P. Surendran, Dr. Easa | M. P. Surendran, Convenor of INTACH Thrissur Chapte,r delivering the Presidential address
INTACH THRISSUR CHAPTER CELEBRATES ITS FIRST ANNIVERSARY
INTACH Thrissur Chapter celebrated its first anniversary on the occasion of the World Heritage Day, 18th April, 2014 . The function, held at Sahitya Academi, Changampuzha Hall, was presided over by Mr. M.P. Surendran, Convener of the Thrissur Chapter. The noted historian, Dr. S.K. Vasanthan was the Chief Guest.
In his introductory remarks, Mr. Surendran dealt in detail with the importance of respecting and protecting India's rich cultural heritage, and the activities envisaged under the aegis of INTACH Thrissur Chapter.
In his address, the chief guest, Dr. S.K. Vasanthan elaborated on the distortions that one can witness in the teaching of history and heritage aspects at school and college levels. According to him, heritage conservation is very essential and preservation of historical monuments is an uphill task.
But what happens today in the name of preserving heritage and culture is nothing but unethical trade tactics.
The gadgets that people are encouraged to wear with a view to attracting wealth, and the advertisements for gold purchase on 'Akshaya Thrithiya', are all such practices followed in the name of heritage preservation. Even the traditions and rituals followed these days have nothing to do (little to do) with the original customs of the past, he asserted.
What we teach now in schools and colleges is all erroneous history. In the past, everybody learned Sanskrit. There was a time, when even carpenters and blacksmiths learned this language, so as to gain insight and more knowledge in their profession. Kerala history can boast that great teachers, like Punnasseri Nambi, once taught lower caste students Sanskrit along with upper caste nambudiris. But we have totally forgotten such traditions. Anthropology and archaeology are not included in the courses offered in Kerala culture. "Without teaching fundamental principles in culture, how is it possible to impart education in arts and crafts?", he asked. These days media are engaged in spreading the culture of religious hatred. Previously, we had the philosophy of secularism and religious coexistence. But today, it has sadly vanished, Dr. Vasanthan regretted.
In the Seminar that followed KFRI Scientist, Dr. P.S. Easa presented a paper on "Bio-diversity heritage of Kerala" and noted architect, Mr. Vinodkumar M.M. and on "Heritage architecture". Dr. Easa, while enumerating the biodiversity of Kerala under different taxa, gave special emphasis on endemic species, exotic avian fauna and also on the destruction and degradation of ecosystems that support these fauna, highlighting species that are included under IUCN Red list facing extinction.
Mr. Vinodkumar In his presentation lamented over the disappearance of old buildings of typical Kerala architecture in Thrissur and the mushrooming of present day enormous concrete structures in its place. He was critical of the attitude of the builders in providing some partially tiled false roofing in an unsuccessful attempt to retain the old Kerala architecture. He placed the responsibility for this architectural turn around to the professional architects themselves to some extent. He informed the audience that INTACH Thrissur Chapter has embarked upon various Projects to identify the existing buildings of heritage value that deserve protection and conservation. Earlier, Dr. Raghavan welcomed the gathering, and the function ended with a vote of thanks proposed by Mr. Prem Manasvi P, Co-convener of INTACH Thrissur Chapter.
Click to Enlarge

300 dpi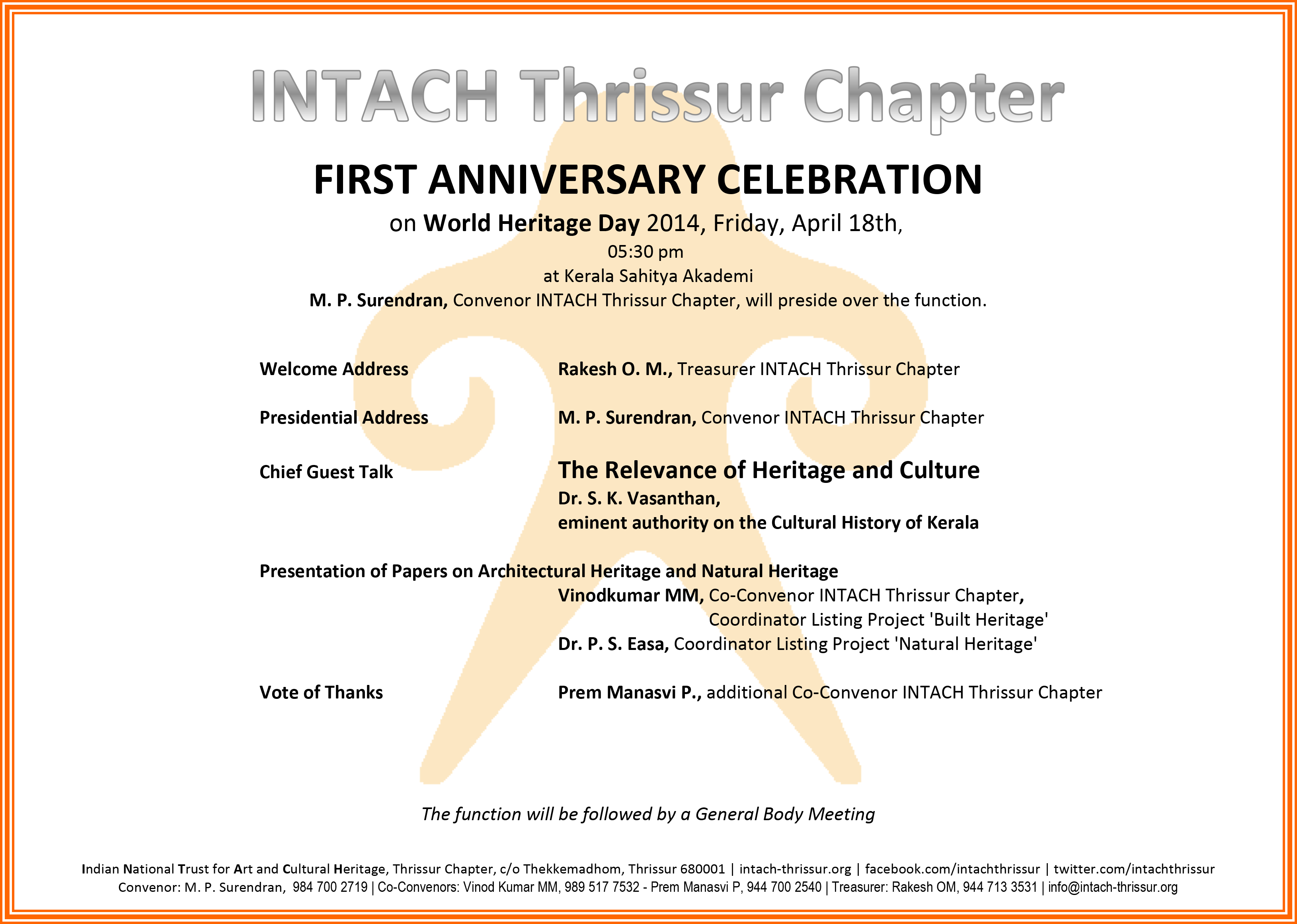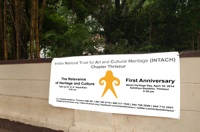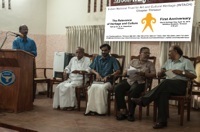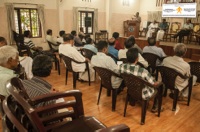 Banner | Dr. S. K. Vasanthan delivers his talk on "The Relevance of Heritage and Culture" | Dr. Raghavan welcoming the gathering. Seen from left to right:Dr. S. K. Vasanthan, Vinod Kumar MM, M. P. Surendran, Dr. Easa | M. P. Surendran, Convenor of INTACH Thrissur Chapte,r delivering the Presidential address
Click to Enlarge